WE ARE UK FILM exhibits at FOCUS for the first time
We Are UK Film, the umbrella for the UK's film national and regional agencies, producers and sales companies are exhibiting at FOCUS for the first time. We Are UK Film will also have a presence throughout the packed content programme with experts appearing in various sessions.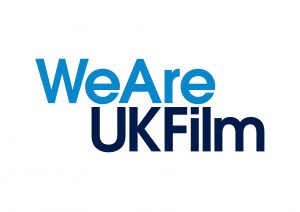 The British Film Commission, the BFI, Creative England, Film London and ScreenSkills will exhibit at FOCUS Digital under the We Are UK Film umbrella.
Each organisation is making their expertise available for meetings and advice in 1-2-1 meetings. Delegates can request meetings with the BFI Certification team who can provide advice on tax relief and certification, and experts on the impact of Brexit and Covid will be able to answer queries.
Further insight from We Are UK Film organisations permeates throughout the packed content sessions under the theme "Future-Proofing the Screen Industries". Several of the FREE to attend content programme feature involvement from UK Film umbrella organisations and can be seen below.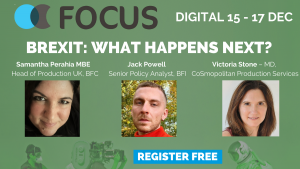 Samantha Perahia MBE – Head of production UK, British Film Commission, Jack Powell – Senior Policy Analyst – British Film Institute and Victoria Stone – Founder / Managing Director – CoSmopolitan production services look at the way the UK works with the EU27 countries will change from 2021 and covers adjustments you may need to introduce in running your business, employing people, funding projects, organising productions (and co-productions), moving crews and equipment across borders, travelling on business etc.
Andrew Reid: Head of Production, Northern Ireland Screen, Brodie Pringle: Head of Screen Commission, Screen Scotland, Hayley Armstrong – Head of Production Services, Creative England, Lynn Saunders – Head of Liverpool Film Office & LCR Production Fund Manager and Jon Walters – Sector Development Lead - Screen – Creative Wales. Will look at the way production has adapted to new working practices and the key opportunities and challenges in these extraordinary times in a session moderated by Lyndsay Duthie – CEO, The Production Guild of Great Britain.
Anna Mansi – Head of Certification, BFI,  Anwen Griffiths – Partner, Lee & Thompson Film & TV Group, Chantel  Burrell – Film Certification Analyst, British Film Institute, Sinead McHugh – Partner, Saffery Champness and Claire Mundell – Creative Director & Founder, Synchronicity Films provide advice and guidance on the UK's Screen Sector tax reliefs.
Christine Healy – Chair of the High-end TV Council, ScreensSkills/COO, Watford & Essex and Kaye Elliott, Director of High-end Television, ScreenSkills discuss how the ScreenSkills HETV Skills Fund is addressing grade shortages and skills gaps to ensure the UK has the people it needs to meet ever-growing demand from HETV content-makers.
Samantha Perahia MBE – Head of Production UK, British Film Commission, Georgette Turner – UPM/ Supervising Location Manager and Florian Cassel-Delavois – Urban Myth Films discuss the practical application of Covid-19 safety guidelines in producing film and HETV.
Adrian Wootton OBE, CEO of Film London and the British Film Commission hosts and chairs a session. Jason Hariton, Chief Studio & Real Estate Officer, The MBS Group, Hackman Capital Partners provides the investor's perspective, Charlotte Surtees, Producer, Code 404 provides the film-maker's perspective and Michelle Jenkins, Head of Production Services, Film London provides the London perspective.
Comments
Not Logged in
You must be logged in to post a comment