The Practical Pop-up set to launch at FOCUS 2021
At this year's edition of FOCUS, we are very happy to introduce: The Practical Pop-Up. Emerging on Wednesday 8th December, this new element of the conference offers practical guidance for film producers. Ever wondered how to efficiently film your production on the streets? Are you searching for expert advice about shooting a new project remotely or producing audiovisual media with drones? Our specialists at The Practical Pop-Up are here to offer key insights into physical production, examining the nuts and bolts required to make things happen.
The Practical Pop-Up is organised in association with FilmFixer. Offering effective film production services for the capital city and surrounding areas, FilmFixer manages 14 London boroughs, the Lee Valley portfolio and seven district councils in Suffolk. Their portfolio also includes private clients The Peabody Group, Butler's Wharf and Potters Fields Park.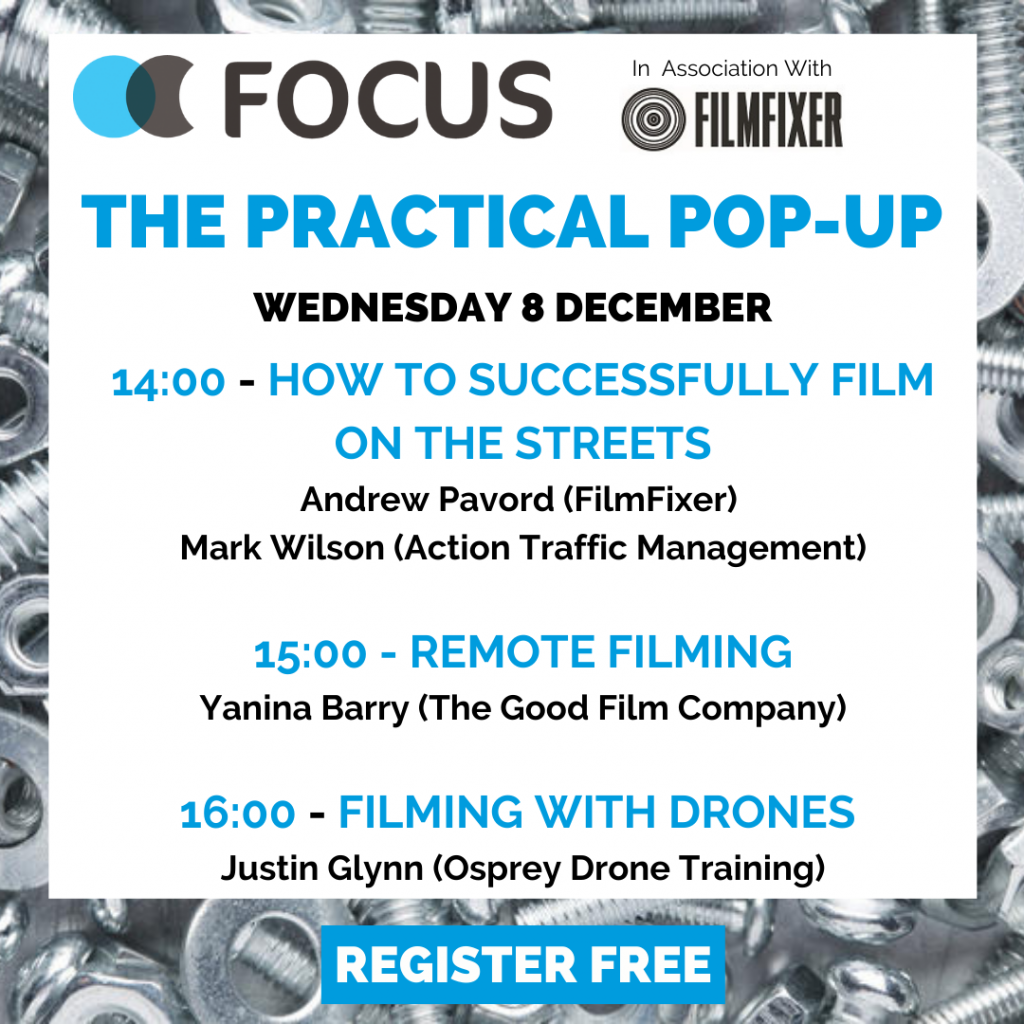 "On behalf of our team at FilmFixer, I must emphasise how excited we are to be a part of The Practical Pop-Up at this year's edition of FOCUS," says chairman and founder Andrew Pavord. "Filming on the streets can present its own unique set of hurdles, so I'm thoroughly looking forward to sharing tips and pointers with Mark from Action Traffic Management. The conference offers a great opportunity for everyone from the industry to connect in person, and The Practical Pop-Up will give attendees key insight into the fundamental elements of film production that make ideas a reality. We cannot wait to see everyone there."
PRACTICAL POP-UP SCHEDULE - WEDNESDAY 8th DECEMBER
HOW TO SUCCESSFULLY FILM ON THE STREETS 14:00-14:45
Andrew Pavord (FilmFixer)
Mark Wilson (Action Traffic Management)
REMOTE FILMING 15:00-15:45
Yanina Barry (The Good Film Company)
FILMING WITH DRONES 16:00-16:45
Justin Glynn (Osprey Drone Training)
Join a range of practical professionals at FOCUS 2021: The Meeting Place for International Production live at the Business Design Centre from 7-8 December and online 7-10 December. Register here for a FREE delegate badge.
Comments
Not Logged in
You must be logged in to post a comment