HELLENIC FILM COMMISSION/GREEK FILM CENTRE EXHIBITING AT FOCUS FOR FIRST TIME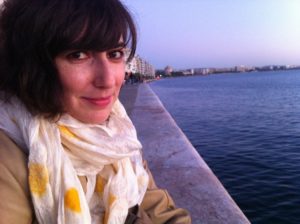 Venia what brings you and the Hellenic Film Commission to FOCUS this year?
Ever since my appointment as the Director of the Hellenic Film Commission of the Greek Film Centre, I found out through other Film Commissioners and Location Managers that FOCUS is the absolute meeting place for promoting what a region has to offer. I came to FOCUS as a visitor in 2017 and I instantly realized how important it is for Greece to be present here.
What are you hoping to get out of the event and what in particular will you be promoting at FOCUS 2018?
At FOCUS we hope to market Greece as an all-time classic destination which is always capable of offering new surprises with an infinity of choices for location managers. The country is now offering a 35% cash rebate. The rebate was implemented in spring 2018 and amounted originally to 25%. It had a very good response and in September 2018 an amendment to the law raised the amount to 35%. It is important to us to showcase Greece as a competitive country in the Mediterranean region.
What foreign productions have filmed in Greece in the past few years?
The TV Series "The Little Drummer Girl" produced by The Ink Factory, AMC and BBC, directed by Park Chan-wook and starring Florence Pugh and Alexander Skarsgård, completed 24 filming days in landmark Greek locations (including the Acropolis) in spring 2018. "Tiger Zinda Hai", one of the highest-grossing Indian films of all time, starring Salman Khan and Katrina Kaif, filmed the song (Swag Se Swagat Song) of the end titles in Naxos island in October 2017; the video has had more than 600 million views on Youtube! The feature film "In the Fade" directed by Fatih Akin starring Diane Kruger (Best Foreign Film in Golden Globes 2018) was partially filmed in regions around Athens. The TV Series "The Durrells" completes filming season 4 in Corfu island after so many successful episodes filmed there.
Please tell us briefly what Greece has to offer as a filming destination?
Greece has always been privileged in terms of the spectacular versatile locations it offers. By introducing the 35% cash rebate scheme this year the country is now investing a lot in the audiovisual sector and into attracting international productions. We will be promoting our breathtaking locations with amazing natural beauty and architecture that spans the millennia with examples from different eras, out talented crews, the new incentive and the world's friendliest light in the world!
Do you offer any filming incentives for foreign productions interested in Greece as a location for their next production?
Greece offers 35% cash rebate which is administered by the National Centre of Audiovisual Media and Communication (EKOME), with whom we have a fruitful collaboration. The Hellenic Film Commission of the Greek Film Centre provides information, advice and guidance regarding filming permits and networking with local authorities, connects producers with the local production industry, and in some cases covers expenses for recce.
More information;
Hellenic Film Commission www.filmcommission.gr / Greek Film Centre www.gfc.gr
Venia Vergou
Venia Vergou studied mass media and communication at the National and Κapodistrian University of Athens and holds an M.A. in Film Studies and European Cinema from the University of the West of England in Bristol (UK). She began her career as a film critic, travel editor and producer. She is the Director of the Hellenic Film Commission since March 2017.
To find out more about filming in Greece, register for a FREE FOCUS 2018 delegate badge here.