Spotlight on New Exhibitor Leeds Castle
FOCUS talks to Gemma Wright of film-friendly location Leeds Castle, exhibiting for the first time at FOCUS.
Please tell us about Leeds Castle.
Set in the Kent countryside, Leeds Castle offers a versatile 900 year old film location with grand medieval and 1930s interiors as well as a 500 acre estate with parkland, maze, woodland, gardens and an 18 hole golf course. We run a full programme of events throughout the year including Fireworks and the annual open air Classical Concert. The Castle itself has been a Norman stronghold; the private property of six of England's medieval queens; a palace used by Henry VIII and his first wife Catherine of Aragon; a Jacobean country house; a Georgian mansion; an elegant early 20th century retreat for the influential and famous; and in the 21st century, it has become one of the most visited historic buildings in Britain.
Please tell us about the film location diversity Leeds Castle has to offer in just one location and in particular what you will you be promoting at FOCUS?
The Castle's interiors offer various period options from Tudor style in Gloriette, principally in the Banqueting Hall, the largest room in the Castle with a stunning ebony floor that stretches the length of the sprung floor in the room. The front state rooms are beautifully furnished in 1930s décor with two floors of bedrooms above, featuring sumptuous marble bathrooms and period décor and 'servants' styled rooms in the Battlements. The grounds offer huge flexibility with acres of parkland, a woodland area, formal gardens and Mediterranean terraces overlooking the Great Water. Come and see us on stand L74 to find out more about our newest venue Battel Hall – a stunning furnished medieval manor house with private garden, ideal for private shoots.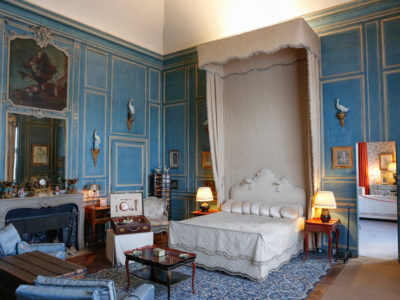 Apart from the variety of locations you have available, what facilities add production value for producers interested in using Leeds Castle as a location?
Having supported productions such as The Hollow Crown, Darkest Hour and two large Bollywood productions, we have hard-standing parking facilities suitable for unit bases of any size, along with cast and crew parking as well as helicopter landing facilities. What's more, we can easily accommode night shoots, with security managed in-house 24/7 with CCTV. If necessary, our rooms are also available to hire for production meetings, complete with free Wi-Fi.
Do you have hotels and other crew and cast accommodation on site or nearby?
We offer cast and crew a preferential rate for our onsite accommodation. We have an evening restaurant located in a courtyard next to our Stable Courtyard B&B rooms, a five-minute walk to the Castle itself. There are five 5* bedrooms available as B&B in the Maiden's Tower adjacent to the Castle. Holiday Cottages and Medieval Knight's Glamping (seasonal) are also available on request.
Please give us some examples of productions that have achieved great production values by using multiple locations and facilities at Leeds Castle recently.
Leeds Castle in Kent has a long history as a film location going right back to the 1940s with Sir Alec Guinness in Kind Hearts and Coronets. More recently it has been used for the BBC Hollow Crown series with Benedict Cumberbatch playing Richard III and for Bollywood fans, Leeds Castle played backdrop to Akshay Kumar in a romantic action movie called Rustom and was used for the upcoming DDPD. Other productions that have filmed at Leeds Castle include Darkest Hour, Casanova, Classic Mary Berry (BBC1),  Who Do You Think You Are special with Danny Dyer, Antiques Roadtrip (BBC1), What Would Your Kid Do? (ITV).
More info at www.leeds-castle.com
Gemma Wright
Gemma Wright as been the Senior PR & Filming Manager at Leeds Castle in Kent since 2010. Her background in PR allows an interesting balance between managing film and photography shoots on location whilst regularly meeting with national journalists to promote Leeds Castle's latest big news story. Gemma lives in Kent with her husband and two small children and also has a passion for radio, having worked as a presenter on a local station for many years.
To meet with Gemma at FOCUS 2018 on 4/5 December, sign up for a FREE delegate badge here.
Images: www.matthewwalkerphotography.com