FOCUS on Italy's 'Locations with Groove'
We talked to Ruggero De Virgiliis, founder of Locations with Groove,  who provide production services to foreign producers filming in Italy. It will be his third time exhibiting at FOCUS.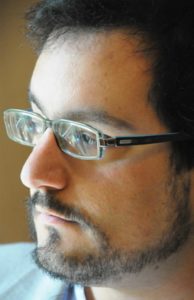 Ruggero what brings you and Locations with Groove back to FOCUS again this year?
We are very happy to be returning to FOCUS. The 2016 and 2017 editions  were great and we recognise how the organisers are working to make the event always better and more appealing. We love it! It's definitely a great place to exchange ideas, network and contact possible clients… In my opinion much better than a film festival.
What are you hoping to get out of the event and what in particular will you be promoting at FOCUS 2018?
We planned from the very beginning our participation at FOCUS over several years. The first two editions were a way for us to understand better the market and the client's expectations. This year we would like to promote further our vision as creative partners for productions – not just locations, tax credits and logistics, but a service offering knowledge and artistic value. At FOCUS we look forward to networking, meeting old and new friends and growing further.
Please tell us briefly about Locations with Groove and the location and production services you offer?
Locations with Groove tries to get involved on a more creative level than any other service. We offer a very individual service to each production, focusing on unique and undiscovered locations and putting our network and individual skills to good use. The locations we offer always show a high component of Italian style, combined with an element of surprise. That's the groove! We love films, and we are also working as producers ourselves. So we cooperate in filling a project with colors, tastes, emotions, and organising a pleasant and safe shoot for both, producers and crew. We offer servicing, but also an opportunity to let us get involved as co-producers or executive producers. So why not to send me a script and to see what we can do?
You are Bollywood Italy specialists I hear! Please tell us about what it is like facilitating Indian productions coming to shoot in Italy?
We started our company focusing pretty hard on Indian films, and offering our knowledge of the Italian territory. We learned a lot from Indian cinema, and that was wonderful training for us. We learned to think constantly "out of the box" and to interact with a veeeery different mentality and culture. It's amazing to read an Indian script and imagine the right Italian locations for the shoot. I would not define us "Bollywood specialists", but Bollywood fans, always open to considering Indian projects.
What foreign productions have you provided production services for in the past few years?


This year I completed my first feature film as executive producer, so my time was pretty much cannibalized by that. The movie is A Rose in Winter, from the director Joshua Sinclair and with the cinematography of the Academy Award winner Vittorio Storaro. The movie tells the true story of Edith Stein, a German Jewish philosopher and feminist who converted to Christianity and became a nun, and died in Auschwitz to became Saint and Martyr, the Patron of Europe with the name Saint Theresa Benedicta of the Cross. The main role was played by Zana Marjanovic and we had an amazing cast with Christian Cooke, Ken Duken, Karl Markovics, Anja Kruse, Alice Krige and Franco Nero, just to name a few. We shot in Budapest in 2017, and I'm sure you will hear from this movie a lot in the next months. Even if it took me long months away from my usual routine of scouting and locations, it was the great chance to learn from such amazing artists and greatly increased mine and our company's skills and potential. We also worked as complete production service on the documentary Journey to Ercolano, produced by Oberon Media and directed by Mirko Conte. That was the great chance to work on difficult locations like the top of the Vesuvio, the Volcano near Napoli, and on the roman remains of the city of Ercolano, one of the most amazing and sensitive archaeological areas in the world.
All these experiences are the cornerstone of what Locations with Groove will bring at Focus.
Ruggero De Virgiliis
Ruggero is an Italian filmmaker born in 1978, with extensive experience in national and international TV and film productions. A skilled production manager and a cultured filmmaker, he's confident working as a line producer, location manager and more. Being fluent in german, english and spanish has allowed him to work on many international productions and co-productions for companies like Bavaria Film, Shine Germany, Wiedemann&Berg, Constantin Film, TV60, DAP Italy, etc. He has also produced and directed documentaries, including the feature "The Books of God," about the multiplicity of voices in the northern Italian mining tradition. He is currently working on different feature film projects as producer. Ruggero lives in Nordrhein Westfalen, Germany.
To meet Locations with Groove at FOCUS on 4/5 December register for a FREE delegate badge here